Servicemen and Women and Veterans Committee News


Joe Robinson, Chairman
My dear Pythian brothers, sisters, and concerned Americans, we are proud Americans, devoted to our sons, daughters, nieces, and nephews, etc. We may disagree with our government's involvement in Iraq and Afghanistan, but we must always remember, it's our sons, daughters, nieces, and nephews, etc. who get killed, wounded, and permanently scarred. Whatever we can do to show our sons, daughters, nieces, and nephews, etc. that we care, we must do.
The Servicemen and Women and Veterans Committee, a sub-committee of the Humanitarian Fund, of the Knights of Pythias, has been doing just that. The committee has been sending packages, approximately 2,000, consisting of many personal items that can not be purchased in the field. There are no PX's in the war zones. You would think that the packages were postage free, but the U.S. Postal Service presently charging $14.85 per package, up from $9.50 when we started this program. The committee relies on fund raising, and lodge donations. Its exorbitant mailing cost puts the continuance of this program in jeopardy. We ask that our Pythian brothers, sisters, and concerned Americans to consider a donation of $15.00, covering one package. Your name will be included in the package as the concerned American.
Please send your check, payable to the Humanitarian Fund (memo - servicemen's committee), to:
Grand Lodge Knights of Pythias
71 South Central Ave. Suite PH1
Valley Stream, NY 11580
Attention: Sir Jordan Levy.
We must continue to support our troops.
Your help is greatly appreciated.
Thank you
Fraternally,
-Sir Joe Robinson, Committee Chair
Letters from our soldiers

Mr. Robinson,
Hello from the sands of Camp Leatherneck, Afghanistan. I received your box today and shared it with my Marines, they were delighted. Thank you very much for thinking of us. You could tell that whoever packed the box had experience with deployments because it was exactly what we would have bought for ourselves.
I've attached a picture of our shop -- it's not everyone because we are pretty spread out but it's most of us.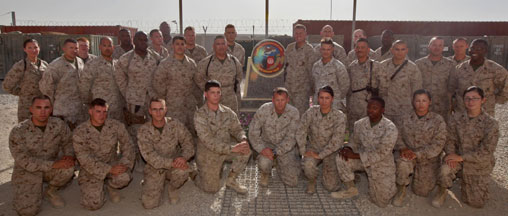 We are the Command Element for I MEF as well as all the NATO troops in Helmand Province, as I'm sure you know from the news we have had a very rough month here - please keep our wounded warriors and the families of the fallen in your thoughts.
Thank you again Sir.
Semper Fi,
Capt Catherine E. Richardson
I MEF (Fwd) Adjutant
NATO ISAF Regional Command Southwest Chief of Actions
Camp Leatherneck, Afghanistan
Dear Mr. Robinson,
My name is LT Kelly Trout and I received a package from you this morning. I just wanted to say thank you for the goodies as they are much appreciated. I am stationed at Camp Leatherneck in Southern Afghanistan. I am an ICU nurse in charge of the Patient Evacuation Coordination Center (PECC). My team coordinates the medical evacuation of all casualties in Southern Afghanistan via helicopter. Since April, we have evacuated over 1900 Marines, Sailors, Airmen, and Soldiers. I have been in country since mid-March and am scheduled to leave in October. When the time is done, it will have been the busiest 7 months of my military career!
Anyway, I just wanted to drop a note and let you know that I was the happy recipient of your package and appreciate your support!
Very Respectfully,
LT Trout
RC(SW) PECC OIC
From: *********@us.army.mil
To: dvldog35@aol.com
Sent: 3/15/2010 3:38:49 P.M. Eastern Standard Time
Subj: Support Package
Knights of Pythias: I would like to express my gratitude for the care package that you have mailed to me. The toiletry items included were much needed by myself, as well as several other Soldiers in my Troop. You have no idea how much a package could really make a Soldier's week here. Unlike the emails and calls from home, packages are a tangible gift letting us know that there are still Americans supporting us!
Thank you for your support!
Michael T. Bustard
1LT, FA
Bandit Troop, 5/7 CAV
Baghdad, Iraq
Click on images below to ENLARGE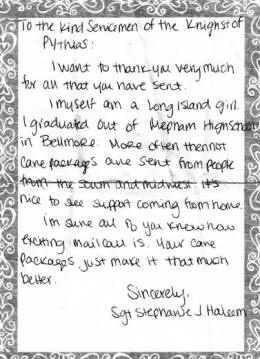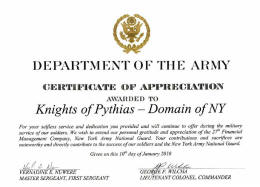 Home | Pythian Charities | Pythian Events | Pythian News | Pythian Resources | Contact Us